A forum according to Google's definition: a place, meeting, or medium where ideas and views on a particular issue can be exchanged.

Forums are very easy to understand, however they are old tech so they require patience.
Navigation is easy, its not too different from looking through your folders on your computer/laptop/phone/tablet.

Okay let's start with Understanding the site.


PART 1
There are 4 Categories with sub categories.
The 4 Main Categories are BLARGARIA, FANDOMS, OTHER and THE GRAVEYArD

BLARGARIA focuses on stuff regarding this site in particular. Rules, announcements, frequently asked questions (FAQ) suggestions for the site, and introductions for users.

FANDOMS is simple. Its more of the meat of this site and each sub category should be obvious by their names.

OTHER is for things that doesn't fall into the other 2. Serious talk is for no joking talk. Subjects to take serously and discuss maturely. Random Talk is for random chatter with no particlar topic or some forum games like the 2 to 3 word game. Mingle is for us to talk about ourselves and get to know each other and develop friendships in a way the other topics can not.

THE GRAVEYARD is for threads to just go and die for whatever reason.

Part 2 (the next comment by me in this thread) will guide you into navigating and commenting on threads. I won't cover some bits of commenting like posting pictures since I've made a thread about that before.
_________________
"There's a time when the operation of the machine becomes so odious, makes you so sick at heart, that you can't take part! You can't even passively take part! And you've got to put your bodies upon the gears and upon the wheels…upon the levers, upon all the apparatus, and you've got to make it stop! And you've got to indicate to the people who run it, to the people who own it, that unless you're free, the machine will be prevented from working at all!" ~ Mario Savio
https://www.youtube.com/watch?v=J_C3yoxTSEk
PART 2 Navigation and making simple replies/commentsOkay as I said Navigating the site is similar to navigating the folders and files on your computer.Let me give a guide on finding a thread.Step 1: Start from the home page and choose one of the sub categories. For the sake of this guide we're choosing the Rules and News sub category which is under BLARGARIA.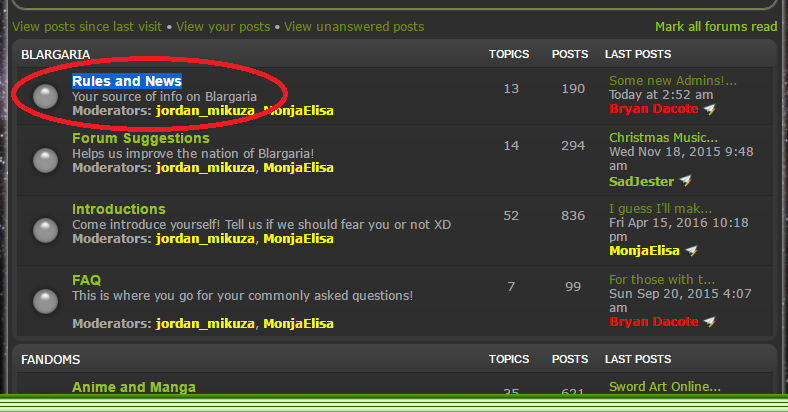 Step 2: Now you will find a list of topics/threads. You can see how many replies, views and who was the last person who commented was. For the sake of this example we're going with "Rules of the Nation of Blargaria"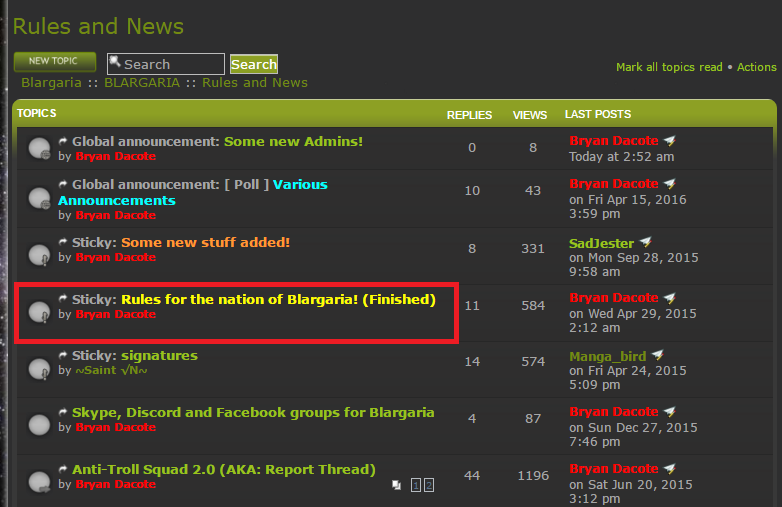 Step 3: You will find yourself on the topic. You can read the older posts.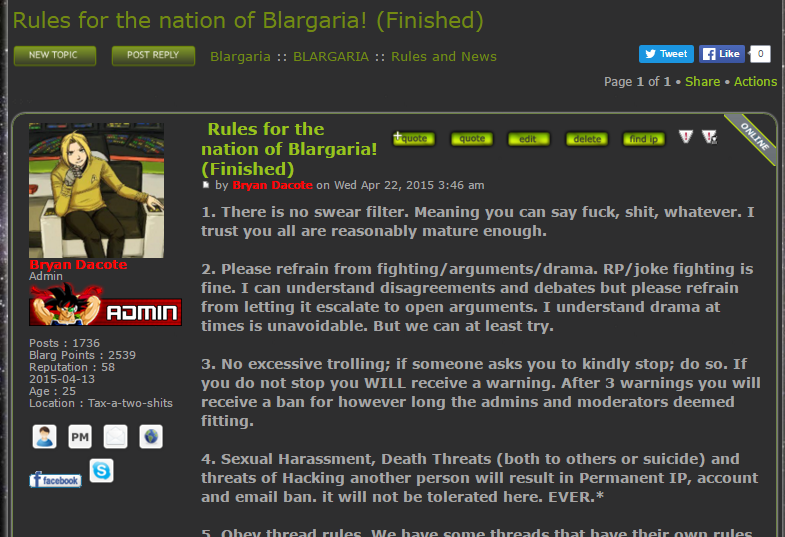 Step 4: Making a quick reply. (Not going into tools/options) In this text box you can type your comment! There is no character limit so go nuts! You can also expand the small box to help review.
I would show you the features/options you have when posting but I actually suggest experimenting and trying them out for yourself. Most are pretty self explanitory. Such as keeping your text to the left, center or right, putting the text in bold, italics, underlined. Others being posting images or videos via youtube or supplying a clickable link provided you have the URL (the link to it) Quoting I might go into later but really all you need to do is hit the "quote" button on someone else's comment and it'll bring you to the page for you to write your reply in. You can also hit the Preview button (which is next to the send button) to preview how your comment will look on the page. This helps when you are using the before mentioned options/features and want to make sure it comes out nice.

Also you can edit your own comments (Moderators and Admins can edit your post as well, but we only do this if you break certain rules in your post) in case you messed something up.


Next section will cover little ways and things to keep an eye out for that helps browsing the forum easier. That will conclude the basics of using the forum. If there is more I need to add, I will do so.
_________________
"There's a time when the operation of the machine becomes so odious, makes you so sick at heart, that you can't take part! You can't even passively take part! And you've got to put your bodies upon the gears and upon the wheels…upon the levers, upon all the apparatus, and you've got to make it stop! And you've got to indicate to the people who run it, to the people who own it, that unless you're free, the machine will be prevented from working at all!" ~ Mario Savio
https://www.youtube.com/watch?v=J_C3yoxTSEk
---
Permissions in this forum:
You
cannot
reply to topics in this forum