I haven't touched it in several months due to the grinding but who else plays it?
I made my own fleet a few years ago. Neon Pixel Squadron. I'm willing to change the name to fit this forum provided other people play it.
Look me up: Bryan@MetalshadowN64
_________________
"There's a time when the operation of the machine becomes so odious, makes you so sick at heart, that you can't take part! You can't even passively take part! And you've got to put your bodies upon the gears and upon the wheels…upon the levers, upon all the apparatus, and you've got to make it stop! And you've got to indicate to the people who run it, to the people who own it, that unless you're free, the machine will be prevented from working at all!" ~ Mario Savio
https://www.youtube.com/watch?v=J_C3yoxTSEk
I need to look into this. I've heard it's pretty good, and it's free to play, so I think I'll try to get into it soon.
I did some digging and I found the old Fleet Logo.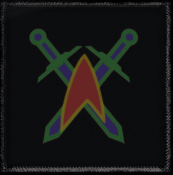 Also I renamed the fleet to "Blargiaria's Fleet"
_________________
"There's a time when the operation of the machine becomes so odious, makes you so sick at heart, that you can't take part! You can't even passively take part! And you've got to put your bodies upon the gears and upon the wheels…upon the levers, upon all the apparatus, and you've got to make it stop! And you've got to indicate to the people who run it, to the people who own it, that unless you're free, the machine will be prevented from working at all!" ~ Mario Savio
https://www.youtube.com/watch?v=J_C3yoxTSEk
---
Permissions in this forum:
You
cannot
reply to topics in this forum